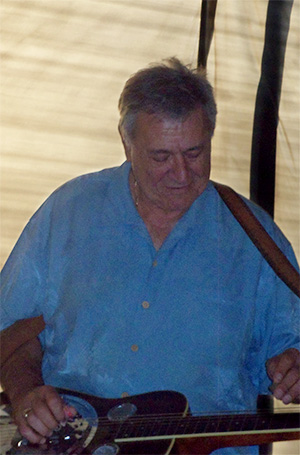 Tom Langdon
Tom grew up on a tobacco farm in Johnston County, North Carolina. It is rumored that they also grew some corn for various purposes. Having fully considered the option of tobacco farming the rest of his life, Tom made the decision to matriculate to East Carolina University. After graduation from ECU and the completion of graduate school, he launched his career in public education, beginning as a grounds keeper and working his way through the classroom, later as a principal, and then as superintendent of the Sampson County Schools. There were many days when Tom wished he was back on the tobacco farm.
Among the parts of his childhood that Tom missed the most was music and fellowship with family and friends. He has successfully regained that part of his life by becoming a talented musician and baritone singer. He started his early music career in a rock 'n roll band that became famous enough to play at the Embers Club, then moved on to bluegrass and gospel. He has honed his skills to become an accomplished banjo and dobro player.
In addition to playing with the Kudzu Ramblers, Tom is a baseball fan. He enjoys attending his grandsons' games and traveling to Florida for spring training. Always looking for a challenge, the word on the street is that he's thinking about organizing a Kudzus' baseball team. It's the teacher in him that keeps coming through!